Metal Extrusion Stretch Forming
Untie Your Hands By Utilizing Our Stretch Formed Curves-Radius Solutions and Facilities
With a highly skilled staff possessing an in-depth knowledge of what it takes to produce a quality extrusion stretch formed product, High Velocity's Extrusion Stretch Forming Division can help you from prototype design and development through final production of your extrusion stretchforming needs.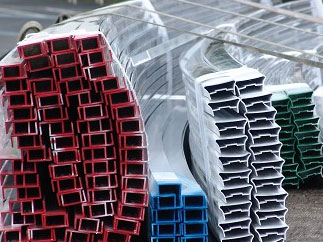 Free Form your Designs
Free form your designs with no constraints using our state-of-the-art CNC stretch forming equipment. Acquired from Boeing Aerospace and programmed by world famous DeMott Technologies, High Velocity utilizes the proposed or existing curvature of perimeter architecture to custom form stack specific radius curved parts for conventional or glass balcony railings and hurricane shutter systems. Our pioneering work in this field has produced some of the most aesthetically pleasing cladding and railing systems seen anywhere.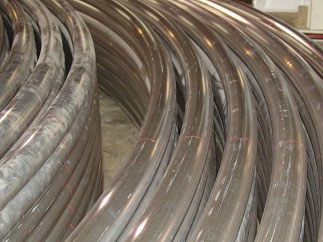 Cost Savings to You
High Velocity's Aluminum and Metal Extrusion Stretch Forming Division can provide significant cost savings through low initial tooling outlay and quick turn around times to maximize your profits. The value adding services, which only Naples Florida based High Velocity provides, can be utilized by companies in a wide range of industries including construction, marine, aerospace, transportation, store display and fixtures as well as communications industries.
We Focus On You
With a focus on our customer's desires, High Velocity Metal Extrusion Stretch Forming is dedicated to providing on-time, and consistent, design and manufacturing processes and components. Our dedicated and experienced Naples FL based team of engineers and machine specialists insure that your metal extrusion stretch forming and all other jobs are designed, fabricated, inspected, packaged and shipped to the critical tolerances that are required.